Also available in:
Español (Spanish)
Setting up a default currency for your proposals.
On Quoters, you can create proposals in 51 different currencies:
EUR: Euro
USD: United States dollar
GBP: Pound sterling
AED: United Arab Emirates Dirham
AUD: Australian dollar
ARS: Argentine peso
BOB: Bolivian boliviano
BGN: Bulgarian lev
BHD: Bahraini dinar
BRL: Brazilian real
CAD: Canadian dollar
CHF: Swiss franc
CRC: Costa Rican colon
CNY: Chinese Yuan Renminbi
CLP: Chilean peso
COP: Colombian peso
CZK: Czech koruna
DKK: Danish krone
EGP: Egyptian pound
GTQ: Guatemalan quetzal
GYD: Guyanese dollar
HNL: Honduran lempira
HKD: Hong Kong dollar
HRK: Croatian kuna
HUF: Hungarian forint
IDR: Indonesian rupiah
ILS: Israeli new shekel
INR: Indian rupee
JPY: Japanese yen
KRW: South Korean won
MAD: Moroccan dirham
MXN: Mexican peso
MUR: Mauritian rupee
MYR: Malaysian ringgit
NIO: Nicaraguan cordoba
NOK: Norwegian krone
NZD: New Zealand dollar
PEN: Peruvian sol
PKR: Pakistani rupee
PHP: Philippine peso
PLN: Polish złoty
PYG: Paraguayan guarani
RON: Romanian leu
RUB: Russian ruble
UYU: Uruguayan peso
SAR: Saudi riyal
SEK: Swedish krona
SGD: Singapore dollar
SRD: Surinamese dollar
THB: Thai baht
TRY: Turkish lira
UAH: Ukrainian hryvnia
UF: Chilean Unidad de Fomento
VEF: Venezuelan bolívar
ZAR: South African rand
To change your business currency, go to Settings> Proposals, and choose the one you want.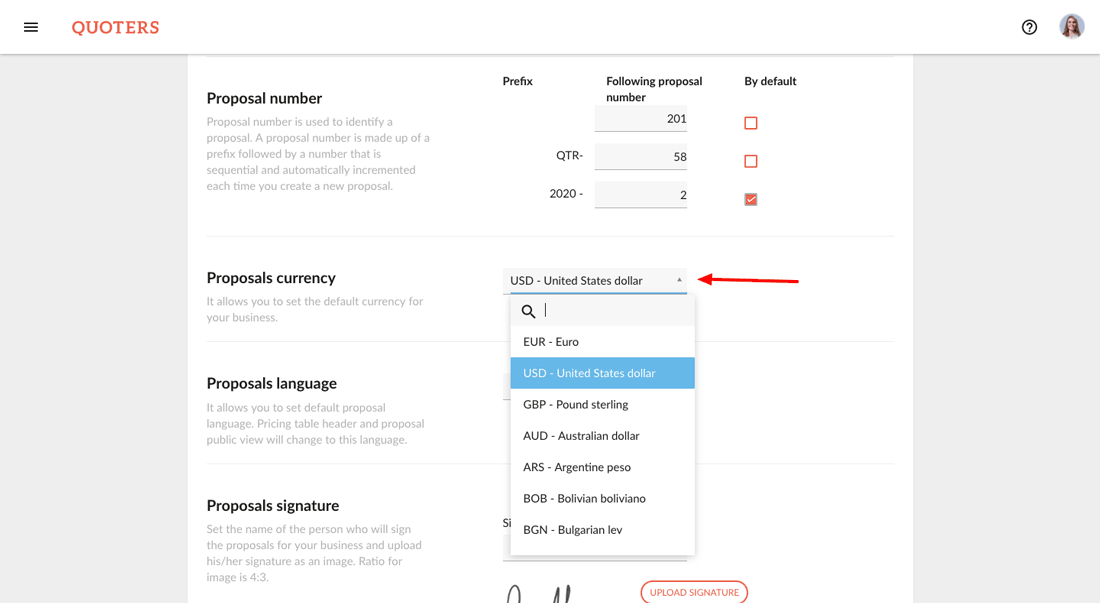 If you want to use a non-default currency, choose it when you create a new proposal.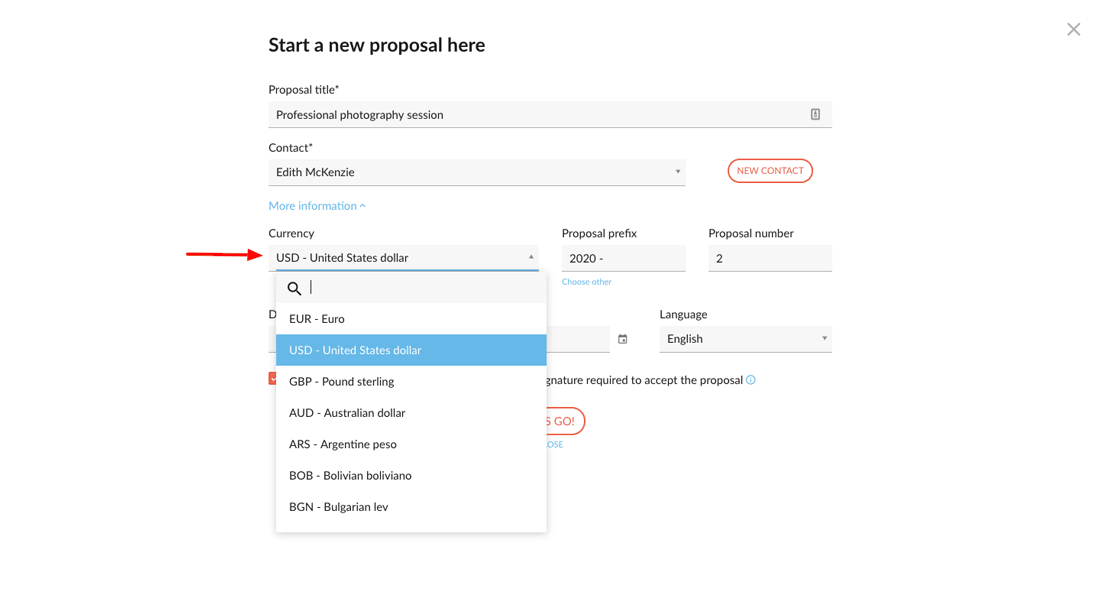 * Default currency for new accounts.